Narnix: The Founder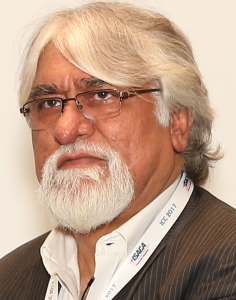 Narang N. Kishor
Credentials:
Technology Philanthropist, Innovation & Standardization Evangelist
Technology Consultant, Mentor & Design Architect with Organizations of National & International repute in the fields of Electrical, Electronics, Semiconductor & ICT.
Over 39 years of professional experience in education, research, design and consulting -

Over 25 years of hardcore Research and Design Development Experience in fields of Industrial, Power, IT, Telecom, Medical, Energy and Environment.

Over 10 years of Consultancy Experience to different segments of business & industry.

Over 200 Research & Design Mentees.

Leading & contributing in multiple National & Global Standardization Initiatives such as BIS, TSDSI, IEC, ISO, ITU, IEEE etc.…
Since 1981: Running an Independent Design House – NARNIX TECHNOLABS - providing comprehensive Design & Development Support and Technology Consultancy to Technological Products & Systems Manufacturing and Solutions Deploying Organizations.
For last 15 years, focus has been to design, advice and help deploy the latest & upcoming technological solutions for Smart Infrastructures, be it Smart Buildings, Smart Grids or even Smart Cities by virtue of Unified, Optimized, Harmonized and Energy Efficient Solution Architectures to enable building a "smart, green & secure" planet.

For last 10 years, deeply involved in Standardization in the Electrical, Electronics, Communication and Information Technology Domains with focus on Identifying Gaps in Standards to address Interoperable Systems & Solutions Deployments and bring Harmonization by defining standardized interfaces to ensure End-to-End Interoperability.
Differentiators:
Since 1981, actively involved in the Indian Electronics Industry in multiple supporting roles like Technology Consultancy, Design & Development, Strategic Marketing, Concept Selling and Customer Education.

Have closely followed and been witness to the Growth, stagnation, fall and recent resurgence of the Indian Electronics Industry.

Have an in-depth & granular understanding of the state of the Indian ESDM ICT Ecosystem including the challenges that it is facing today, as well as the opportunities arising out of the challenges it faces.

By virtue of working as an Independent design engineer for last 35+ years in India, have acquired the unique insight into the issues of the doing business in India for Electronic Products & Systems Manufacturing and Solutions Deploying Organizations.

Unique distinction of having designed and deployed India's First Ever FTTH on GPON Access Network in 2007-08  - "Comprehensive Neutral Access Networks (Multi Service)" for the Real Estate Vertical…